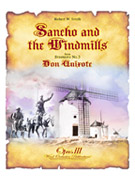 圣徒与风车(第三交响曲,唐吉可德)/Sancho and the Windmills (Symphony No. 3, "Don Quixote," Mvt. 3)
演  奏:
演奏指挥:暂无
乐谱风格:现代音乐
音乐形式:交响管乐
演奏乐器:暂无
出版公司:C. L. Barnhouse
难易等级:3
库存情况:请客服微信号:13910324401,或电话010-85863306
专辑介绍
The third of four movements in Robert W. Smith's epic work Don Quixote, the listener is treated to the comic relief that permeates the entire literary story line. Beginning with the opening bassoon solo characterizing Sancho Panza on his donkey, the composer uses unique percussion effects to convey the hapless hero and his never-ending battle to stay up on his horse Rocinante. The listener can hea...
查看全文
单曲列表